Hello readers!
It's Alice here. It's been some time and my reading has still been a little topsy-turvy. The good news is that I'm almost at 50 books read so far in the year of 2019! Being behind a little hasn't been pleasant, however in the mean-time, here are a few of my latest book reviews that I've written over the last few weeks. Some for books I loved and others… not so much.
Rating: DNF!
DNF @ 3 hrs 40 mins of listening (approx chapter of DNF: 21)
This was one of my most interested in 2019 YA releases and after learning that my local library's audiobook service had the audio, I was keen to jump in and give the story a try. Almost straight away, I started to have a strong dislike for the cast of characters. Lacey in particular acted quite snarky and bitchy towards main character and her best friend Eden. That was not to say that Eden herself wasn't a nice person either. She sounded whiny and acted quite immaturely. I do understand that when you are experiencing a form of grief, you do tend to take your feelings out on other people. I liked the premise behind a company where you can donate your voice to, so when something happens, your voice stays alive forever. The overall feeling and tone of the story-line left me feeling quite depressed which made me realise that this listen wasn't for me!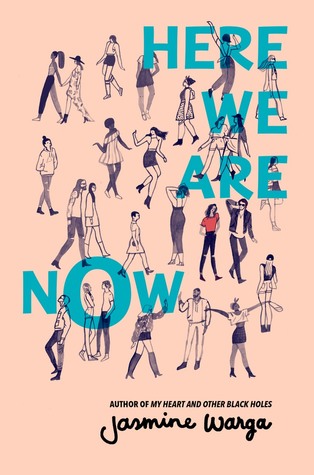 Rating: 3 Stars!
(For current subscribers, you may remember that I shared my thoughts on the first chapter for Here We Are Now during my trying the first chapter tag last year!)
Here We Are Now is a standalone YA Contemporary novel, following teen girl Taliah, who for a few years has been sending letters to her Dad. Her Dad hasn't really had much of a physical presence in her upbringing, as he is a rockstar in a famous band. After her Mum leaves the US for France, Taliah gets the surprise of her life as Julian Oliver shows up on the front doorstep: He is her biological father. His father is dying and wants Taliah to travel with him for a few days to meet family members that she's never crossed paths with before.
Taking place over a few days, Taliah meets family members as well as a neighbour called Toby who tries his best to make her feel comfortable and happy. The novel itself does have LGBTQIA+ representation as Taliah's best friend Harlow is in a relationship with girlfriend Quinn. Taliah's Mum emigrated to the US from Jordan in the Middle-East, Taliah herself is biracial white/Arabic and at times, I did enjoy reading from her POV. I felt that the story itself had so much happening all at once, that just didn't feel fully fleshed out. The length was very short (under 300 pages) and I really wanted to see more of a build-up regarding Taliah's connections with Toby and Julian. The parents POV was an interesting read but at times, it struggled to hold my interest!
Rating: 4 Stars!
I listened to this novel on audio via my local library's BorrowBox service!
A historical crime novel filled with a mysterious house and spooky ghosts? SIGN. ME. UP
After hearing so many mixed reviews about the lack of scares, I was a little worried going into A House Of Ghosts. But I can say with my hand on my heart, that the audiobook made me shiver and kept me edge of my seat excited for the plot twists thrown throughout. Set during the final years of WW1, main character Kate arrives at Blackwater Abbey based off the coast of Devon after being invited to attend a spiritualist gathering. The Lord Highmount is trying hard to contact his two missing sons that had been lost on the battlefield. Each of the guests invited all arrive with hidden secrets and during a fierce storm, a terrible accident happens. But with one event comes many more and soon, someone will end up… dead.
The novel is split into two POVs: Kate and Donovan. Both of them turn detective as they try to work out which guests are up to foul-play. I enjoyed both of those perspectives and how they worked well together as a pair. There were other plot elements such as ghosts (Alice jumps for personal joy!), secret passageways and good old detective fun. It was a long listen, a little slow and at times, I did lose track of some of the extended cast of guests. I loved the narrator, he was atmospheric and his speech was clear to understand. If you like Christie's Poirot with a hint of horror, this is for you!
Rating: 4 Stars!
Listened to the audiobook for this novel via Audible!
This Middle-Grade novel was just a delight, I really enjoyed the adventures of Mila and her siblings and the closeness of sibling friendship. Inspired by Slavic folklore, the world is basically trapped in winter and has been for many years. Mila's Papa walked out of the family home a few years back but never returned, leaving Mila's older brother Oskar in charge of affairs. Everything changes when a strange man arrives at their front door asking for shelter. He stays the night but by morning, he has kidnapped Oskar. Mila decides that she has to rescue him but not everyone is convinced. Most notably, one of her own sisters Sanna. Soon, the decision is made and they venture out on a quest to find their missing brother. I liked most of the characters including Mila and the youngest child Pipa. However, there were a few that I didn't like, mainly Sanna because of her attitude at first to going out on the adventure. It was a fast-paced listen, with a great narrator. The ending did feel a little rushed to me but for someone who loves folklore inspired stories, it was enjoyable!
Rating: 5 Stars!
I received a physical copy from the author, in exchange for a honest review!
This was such a fun children's picture book, following main character Timothy Mean as he builds a time machine and every day, he ventures into a different time period such as 1969 (first man on the moon) and the Viking era. The story was easy to follow, text clear to read and I loved the illustrations. I will be passing on my copy to my second cousin who is 2 and would really enjoy a fun, quick and educational read! Plus, there's dragons in this and that is one of my favourite things to read about.
That concludes this post! Let me know in the comments section the books that you've been reading recently. Have a lovely day and don't forget to follow me on Goodreads at http://www.goodreads.com/Marriedtobooks44  to be notified when I post new reviews!
Alice x