This is my blog post for the 1st of August! Everyday for the month of August, I will be writing and uploading a post each day. So make sure you stayed tuned for that!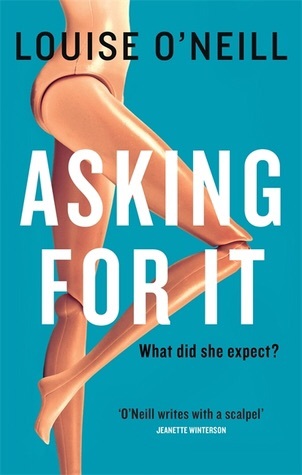 The night before I met her (yesterday to be exact), I battled with a serious migraine. Whether it was through listening to a lot of loud music in such a short amount of time, I don't know. But I had to put down my reading of Harry Potter and the Cursed Child to rest for what would be an amazing meet and greet with author Louise O'Neill close to where I live here in England. I first heard about the event a few weeks ago when a bookseller in the Waterstores store that was hosting the talk and signing mentioned it to me and immediately I was like, "Put my name down, I'm so there!" The last meet and greet that I went to was back in February of this year when I went to an event where a bunch of authors read extracts aloud to an audience and then hosted a big signing afterwards.
In the days leading up towards meeting Louise, I started to feel what I have always felt. Even though I knew where I was going and when to leave the house, I felt this huge dark shadow of Anxiety waltz over me. I also realized that this would be the first time attending an event that I would meet other bloggers/vloggers close to my age. I have a lot of Goodreads friends and obviously my following here but my shyness just wanted to trap me in and close me up like a gigantic bubble that would be tricky to pop. So, I made a few moves.
First off, I didn't go straight to the event. My other love in life is music and I went to the music store HMV to grab a copy of a CD that was released on Friday. Then, I walked to the bookstore and was there an hour early. For those of you who don't know me personally, when my Anxiety starts to kick in, I feel like I have to be at the allotted place so much earlier than planned. I had a book token to spend so I picked out a hardcover called The Crown's Game by Evelyn Skye. I went to go and see my Dad that works in a library close by and spent some time with him purchasing an old 10p withdrawn and offered for sale book by Alyson Noel called Forever Summer which contains two stories in one: Laguna Cove and Cruel Summer. I had the books, now to the event!
After waiting for around five minutes in the rain, I was ushered in up some stairs to the 1st floor of the Waterstones building and asked how old I was. When I replied with my age, I was offered some wine but I opted for supermarket cola instead. I am not a keen drinker of alcohol. Taking my seat in the 4th row, I switched on my phone and tried to tweet about the event and everything but my crappy phone decided to cut all of my data off which doesn't get refreshed until the 7th of this month, grrr! I was not best pleased. To help ease my Anxiety a little, I tried talking to the people around me, introduced myself and talked about this blog and my Goodreads. It did help to break the ice a little. I also met up some vloggers including… Lucy from Queen of Contemporary! Ahh, it was so exciting! We got talking, well, I tried to talk ahahaha, let's just say it was part fangirl part social anxiety moment. Stop by her blog guys, seriously. Just go do it: http://www.queenofcontemporary.com/
When the event got underway, Louise looked absolutely amazing and I was so tongue tied that I had no idea what to say. But I sat patiently now moved to the front row with the group just to hear what Louise had to say. And my word, it was an incredible talk. I loved how honest Louise is and when she talked about her friend who is also a writer getting up at 1 in the morning to write, let's just say I can relate to that quite a bit. Asking For It which is the book I got signed by Louise at the event is a novel that tackles a serious topic: Rape. It is about eighteen year old Emma, a girl from Ireland going to a party one night and waking up the next morning on her front porch having no clue what happened the night before and why she got dumped on a porch. It talks about the events leading up the party and the events after the party. This novel readers shows why it needs to be on everyone's TBR lists. Louise also talked about her life in Ireland and the news that she is writing her 3rd novel (yay!). I need to read Only Ever Yours because it looks and sounds great. *Adds to the never-ending TBR list.*
After the talk, everyone lined up for the book signing at a different part of the 1st floor. I stood with Lucy and the lovely twins I met so shout-out to you both as well! I think I ended up gate-crashing your vlogging with my weird looking grins ahahaha. So, I may well be on film 😉
Waiting in the queue was actually quite tense for me. With my Social Anxiety, there's a million things you just want to talk about with someone you meet for the 1st time but in my mind, the dark shadow of Anxiety just prevents me from physically opening my mouth and creating a conversation. I always doubt what I talk about which is the main reason why i'm not a vlogger. My blog works great for me as writing is a better form of communication personally throughout my struggles with self-esteem and self-confidence. I wore my glasses as because of my migraine the previous evening, I thought that my sight would play up on me but I was fine with my head in the end. When the time finally came to meet Louise, inside deep down, I was literally so scared. I didn't know what to do so I put on my best smile, stepped forward and said hello.
I decided to talk about my Social Anxiety to her and explain that I don't normally like to put myself into situations like this due to the panic attacks and aftershocks from the past. In reality, I was so close to not attending the event and meeting Louise but I had this quote running constantly in my mind, "Winners never quit and quitters never win." I used that to help me get out of the house and into the world of books away from my bedroom for one evening.
When I started to talk about my Anxiety, I felt a hush close to me and I was wondering if maybe I said the wrong thing. I am in awe of people who can talk to others so confidently and come up with new conversation starters and I stand, silent cursing myself for what I've just said. However, the reaction I got from Louise I was not expecting at all. She told me she knew someone close to her that has Social Anxiety and she thanked me for being able to come down to the event and spend some time with other Louise O'Neill fans. I could tell that she was glad I came. I have to admit, spending an evening in the bookstore surrounded by all of the book displays and great authors is so much better than sitting on the sofa and staring into space for the whole evening. We said our goodbyes and I left the bookstore after saying goodbye to Lucy and the twins.
The weather was awful, as I dodged through the streets, I felt my leggings and shoes dripping wet. I get very nervous if I am walking in the city streets alone in the evening and I've always had that fear. I walked quickly, got on a bus and my lovely mum picked me up at the bus stop in her wellies and holding an umbrella. My hero.
So, rounding off this post for today. I just want all of you to know that if you battle with shyness and feel anxious about others. Here's the thing: Don't be. Wear a gorgeous smile and walk in tall, shoulders back. You've got this, Alice knows you've got this OK? *Hugs*
COMING UP ON MY BLOG:
August 2nd- Harry Potter and the Cursed Child Overall Review and Reactions.
August 3rd- Five YA Books of 2016 I Want and Need.
August 4th- Coping Methods for Social Anxiety.
August 5th- Nevernight by Jay Kristoff Overall Review and Reactions.
Thanks for reading and see you all soon!
Alice x