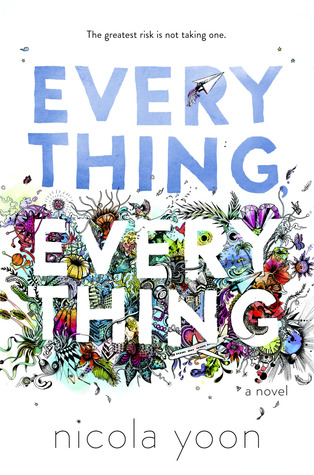 5 glittering stars!
I have a little confession to make before I get into my longish review. Back last year when the Goodreads Choice Awards were happening, I was voting on books in the various genre shortlists. The vote for best YA Fiction 2015 from me went to this book even though I hadn't even read it until now. Why? Because from the title, cover and blurb, I was sold.
Everything Everything is one of those books that makes you as a reader learn and understand just how important life is throughout danger and troubled times. The main character Maddy who is eighteen is house bond. She has a rare medical condition in which she is allergic to the outside world. Even stepping out into the back of a garden could make her sick. The only people that she is close contact with is her Mom and her nurse Carla. Everything seems normal until a moving truck arrives with a new family joining the neighbourhood. They just so happen to have a son around Maddy's age. Olly.
Through the hardships that both characters face, through messages, charts, diagrams and so much more, we experience a growing bond unlike any other and when some events happen that threaten to shatter that bond plus any chance of normality for Maddy, for me, my emotions were a freaking mess.
A quick read and very enjoyable with a somewhat gorgeous sunset outside and a nice warm mug of coffee to enjoy. I really couldn't find any faults with Everything Everything, the suspense and plot twists kept me hooked throughout and if there is one YA book I recommend to all of the Goodreads community, it's this one.
A contemporary with a twist of emotions.
4 stars!
It took me a lot longer to read this book than normal just because I've been incredibly busy the last few days but this truly was a worthwhile read. I like how diverse Eleanor and Park are as characters. Their love story full of facing prejudice and staying true to yourself just really spoke out and touched me as a reader. By the end, my eyes were teary which pretty much summed up just how emotional a journey of love is.
Eleanor and Park is the first full-length novel I've read by Rainbow Rowell. Park sits at the back of a bus, headphones on and music blaring. Eleanor is new and wears wacky clothes that makes her stand out from the crowd. Eleanor's upbringing is difficult as her stepdad kicked her out of the family home while Park has to deal with some protective parents. This story is suitable for 14+ and anyone who likes reading YA Romances. This is a story that will leave you breathless.
For more reviews, friend me on Goodreads at: http://www.goodreads.com/Marriedtobooks44 or tweet me at marriedtobooks3!